Choose Showtime to Buy Tickets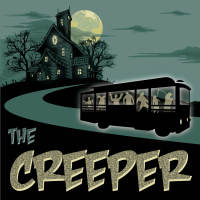 An AT&SF Production
ABQ Trolley Co: The Creeper
The Ultimate Fright Night!
Haunted Attraction Tour featuring "Quarantine" & "Dragons House of Horror" at Expo NM
Ages: All Ages Price: $50
All Event Showtimes
October 20, 2017 6:00 pm
- 8:45 pm
October 21, 2017 6:00 pm
- 8:45 pm
October 26, 2017 6:00 pm
- 8:45 pm
New for 2017 - Join ABQ Trolley Co. for the ultimate fright night! Board the Trolley in downtown Albuquerque for a tour of haunted house attractions. Featuring: Blackout Theatre's Quarantine: Invasion* ($30 value) and Dragons House of Horror** ($40 value) (Guinness Record Holder for World's Longest Walk Through Horror House).
Both located at Expo NM, guests will receive front-of-line access and admission to both haunted attractions (including Dragons' Thrill Show). 
---
*Quarantine: Invasion
New Mexico is no stranger to UFOs and with the 70th Anniversary of the Roswell UFO Incident this year, we're due for another visit. Ready or not, here they come. This year, we return to Expo New Mexico inside the Youth Hall Dorms, but we're not alone. Dive into the dark to investigate the invasion of an unknown species.
3 time "Best Live Performance" by the Weekly Alibi. Quarantine is an immersive horror show that puts the audience in the story. Created by Blackout Theatre Company (7-time "Best Theatre Company" winner) complete with theatrical design and staffed with professional actors. Quarantine is sure to be unlike anything you've ever experienced.
**Dragons House of Horror
On November 3, 2015, the world reach a new milestone in horror. That was the day that the Guinness Book of World Records verified Dragon's House of Horror's claim to the title of "longest walk-through haunted house in the world." This labyrinthine house of terror returns to the New Mexico State Fair this fall, filled with a cavalcade of frights for brave guests to navigate.
---
Availability for this special attraction is limited to 34 passengers per tour. Buy your tickets early to guarantee your seat. The Trolley is an open-air experience; please dress appropriately.
NOTE: The Creeper is rated R for adult subject matter. Bring children at your own discretion. The Creeper will only be cancelled if the roads are dangerous and not drivable (snow-packed, icy, etc). Tours will not be cancelled for cold weather. Please dress appropriately.
There are no refunds for The Creeper. Due to the high demand for these tickets, there will not be any refunds for anyone who misses the tour. By the time the tours are upon us, we've turned down many riders who are interested in joining us because the tours are "sold out." Having a rider cancel the week of or the day of does not give us enough time to resell that ticket. Thank you for your understanding.